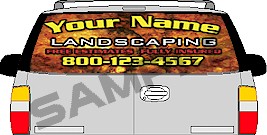 'Clear Vision' rear window graphics!
Perforated 'see thru' adhesive window film…This revolutionary material is manufactured with thousands of tiny holes that allows you to see out of the window, but does not allow light to pass into the vehicle. Made for outside installation with dry application. Can be installed on most rear windows including those with sliders and rear wipers. These custom made graphics are available in many designs for most cars and trucks. They are all a one piece design and can be fit on windows with sliders and wipers.

"You can see out, but they can't see in."
These see thru window mural decals are available in the sizes shown below. They are all made with premium materials and designed for outside installation on glass or painted surfaces. There is a one time setup charge of $15.00 for the design which will automatically be applied to the final purchase when and if you approve the design.
Airplanes | American Flags | Beach | Belly | Bulls | Camoflauge | Canada Flags
Cats | Checkered Flags | Confederate Flags | Country Flags | Diamond Plate
Eagles | England Flags | Deer | Dolphins | Flames | Gay Pride Flags | Horses
Israel Flags | Ireland Flags | Landscapes | Lighthouse | Lightning | Lions
Mexico Flags | Military | Money | Mountains | Muscle Men | Patriotic
Puerto Rico Flags | Race Cars | Sailboats | Sharks | Sky | Soccer | Sports
Sun | Sunsets | Tigers Tigers
| PAGE 2 | PAGE 3 | PAGE 4 | PAGE 5 | PAGE 6 | PAGE 7 | VIEW ALL

eDecals.com specializes in custom decals and is staffed by sign professionals with over 27 years of experience in the car and truck decals industry. We have built an extensive library of decal vinyl decals stickers,
car decals,
custom window decals,
decal kits,
truck rear window graphics,
car decal,
logo decals,
custom lettering,
vinyl truck signs,
truck lettering decals,
commercial truck lettering,
window decals for cars,
race car graphics,
memorial window decals,
rear window graphics, camo patterns, Rear window graphics made for cars and trucks and RVs.