Custom Boat Lettering Decal Kits
We custom make high quality marine grade lettering for your boat or PWC. Boat letters can be made in 30+ colors and 150+ different typestyles. You can instantly design you very own boat letters online right now! Most orders ship the next business day!
Custom Boat Name Lettering Decals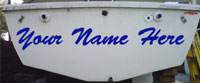 Create custom lettering for your boat.  Preview your font, colors and size online.
Custom Boat Registration Number Decal Kits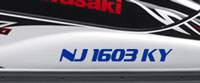 Design the required US Coast Guard approved boat registration number decal sets. Preview your font, colors and size online.
Custom Boat Port Name Lettering Decals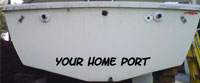 Display your home port using our custom online port lettering design tool. Preview your font, colors and size online.
Predesigned Boat Lettering Library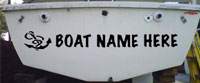 Browse our extensive library of marine nautical designs to enhance your custom lettering. Many size and color combinations are available..

Are you looking for marine grade lettering for your boat or PWC?
Need it be of high quality? Do you want your boat lettering to be customized?  Well, you are in the right place to start hunting for just that. Your boat letters can be made out of different colors and from different styles. At eDecals.com, you can design your own right now.  When it comes to lettering your boats, what they have to offer is definitely the solution that you have always been dreaming of.
They are offering custom boat lettering, which allows you to create your very own kit for it.  You can create your own custom lettering without much hassle online. Rest assured that you could make the right size, font, and color of your custom lettering as you can preview how it looks like online. With that, you can make the custom letter decals for your boat just like how you want it.If you need boat registration numbers, you can create your custom kit for that right on this site.   Here you can design those boat numbers that the US Coast Guard required and approved.   You no longer need others to design your boat decals. Here at eDecals.com, you can make your own design and preview its appearance to make sure that it has the look that you want for it.
Do you want to display your home port in your boat? We are offering an online port lettering design tool that will allow you to do just that. With the custom boat decals that we are creating, anything is possible for you. Regardless of how you want, your boat lettering is for your home port, our tools can create it for you.  Create those custom letter decals you want and proud display your home port like your very own boat stickers.
Boat name decals have never been this good as we are offering it for you.  Our predesigned library for your boat lettering has it all. Whatever marine nautical designs you want for your boat, our library definitely has something to offer you. All you need to do is browse our options and find the one you prefer the most.
If you are looking for ways to enhance your custom boat decals and lettering, edecals.com has the tools that can make that happen.  We have different color and size combinations available here and waiting for you.
At edecals.com, we are creating custom boat stickers, boat decals, boat lettering and boat graphics. We have at our disposal different design tools that do not just allow you to make your own designs. Whether you are creating your boat registration numbers, letter decals, boat stickers or your boat name decals, our tools will help you create them exactly as how you want them.
With the preview feature of our tools, you can see exactly how the boat lettering looks and do the changes you see fit for it. You can see your work right there on your screen. Once you have made the purchase, rest assured that whatever custom boat decals you made would be delivered right to your doorstep the next business day. Here at edecals.com, we always deliver nothing less than your satisfaction.

We create custom vinyl boat lettering, boat graphics, boat decals, vinyl lettering and boat stickers. We have launched a whole new set of instant online design tools that allow you to preview your custom boat lettering, boat registration letters, boat letters and boat name lettering right on the screen! Once you purchase online, the custom vinyl lettering is made and shipped the next business day!
Create Your Own Label Sticker Decals: