Create Your Personalized
Truck, Boat, Bike and Racing Decal Kits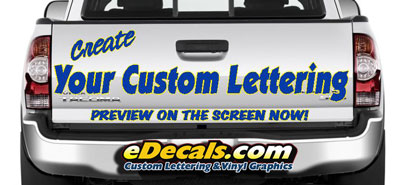 Make Your Own Self Adhesive Lettering
Custom lettering designed instantly for cars, trucks, boats, atvs rvs, or any smooth surface!!

Boat Lettering Kits:
Boat lettering, boat registration numbers and home port decals available in hundreds of fonts and color combinations!!

Race Car Number Decal Kits
Race car numbers for all types of car racing including SCCA, NHRA, IDRL. Preview number styles on the screen!! Self adhesive and magnetic number plates, permanent decal sets and more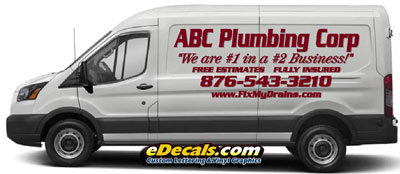 Truck & Vehicle Lettering Kits:
Durable commercial truck lettering kits, USDOT and GVW numbers. All designed instantly online right now!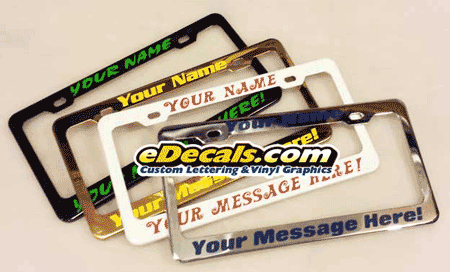 Personalized License Plate Frame:
Design your own personalized auto tag frames instantly online! Choose your font, colors, effects, etc.!!
Custom Windshield Decal Banners:

Create your own custom lettering instantly online! Choose your font, colors, effects, etc.!!
Flame Decal Sticker Kits Durable easy to install vinyl decals are available in many sizes and hundreds of designs. Both realistic and color fade styles for any car, truck, boat, rv atv, etc.
Shop Flame Decal Kits

Printed Oval Stickers Wholesale pricing for bulk printed stickers. These durable weatherproof decals are great for any event or club!
Oval Stickers Square or Rectangle

Universal Racing Stripes Premium grade vinyl racing stripes. These easy to install stripes are available in many sizes and color combinations.
Shop Racing Stripes

American Patriotic Decals Show your American Pride with our extensive selection of patriotic decals
USA Pride Decals

Try Out Our New and Improved One line Decal Design Tool! Create your own custom lettering instantly online! Choose your font, colors, effects, etc.!!
Create Your Decal Now

Accent Decal Kits Hundreds of designs to customize your car truck boat or bike
Accent Sticker Kits

Wheel Center Cap Decals These self adhesive decals can dress up any stock or custom rims. Made from easy to install decal material. Create Center Cap Decals

Cartoon Decals Literally thousands of cartoon designs to choose from.
Browse Cartoons

Printed Sticker Labels Instantly design printed stickers for your business or promotion.
Printed Sticker Labels

Printed Self Adhesive Vinyl Graphics Do you have an image you want made into a large format decal? We can help. Use this form to submit your info.
Get A Quick Quote

Custom Wall & Vehicle Prints Print your favorite photos onto self adhesive vinyl material. Mount it to your wall, car, truck, or even frame it!
Create Your Full Color Prints

Custom Vehicle Lettering and Truck Wraps: We design, manufacture and ship or install all types of truck lettering and vehicle wraps. Door signs of all kinds for Ford Chevy, Nissan, Isuzu, Dodge and more. Truck lettering decals for any business!
See all truck lettering

Build Your Own Custom Signs & Decals Single Line Decals • Multiple Line Decals • Magnetic Signs For Sale Decals • Drag Race Numbers • Website Stickers License Plates • Road Race Numbers • Circle Track Kits License Plate Frames • Digital Prints • Printed Oval Stickers Wheel Center Cap Decal Sets • "In Memory Of" Stickers Printed Stickers • Vinyl Display Banners • Boat Lettering
Start Designing Your Decals Instantly!

eDecals.com specializes in custom decals and is staffed by sign professionals with over 24 years of experience in the car and truck decal and vehicle customizing industry. We have built an extensive library of decal vinyl decals, car decals, custom window decals, decal kits, racing decals, custom boat graphics, make my own decal, decals and stickers, personalized decals, custom car decals, truck rear window graphics and more With over 112,000 customers since launching our website in 1999, trust eDecals.com for your next decal or vinyl graphics purchase! Use our instant sticker designers to DIY create your own car decal maker, custom auto decals, custom truck decals, custom car decal, racing numbers, vinyl decals for cars, vinyl stickers for cars, racing decals, custom license plate frames, custom vinyl stickers, custom decal stickers, car sticker maker, auto decals, car stickers, custom decals, flame decals, custom car window decals, boat name decals, truck lettering, boat decals, car graphics, decals for trucks, vinyl car decals, truck decals, custom decals for cars, custom car stickers, decal maker, custom vinyl decals, car decals, decals for cars, custom vinyl decals, window banner, car decals, vinyl flame decals, zodiac stickers, decal kits, diy stickers, make your own, blank vinyl rolls, tailgate graphics, racing stripes, side decals, rear window graphics, motorcycle flames, realistic flames, camo patterns, hood graphics, dragon decals, carbon fiber, camoflage car decals, car body decals, car decals and stickers, custom auto graphics. We also make wall prints, All of our stickers come in white, gray, camoflage, black, yellow, red, blue, green, silver metallic, chrome carbon fiber camo reflective and over 50+ colors.
Coronavirus Update:  Yes, we are open and shipping with limited staff and USPS pickups! BE SAFE!

We are all taking the current situation with the Covid:19 virus very seriously.  We have implemented strict standards in our facility to sanitize both the work site and any raw materials used in production.  We have daily full scale disinfecting along with personnel disinfecting both prior to work and during work hours, along with monitoring of all personnel for symptoms.   So rest assured that we are doing all in our power to keep our customers safe during this time.

Please be advised that we are attempting to manufacture and ship all orders as soon as possible.  Some slight delays may occur.  Express Shipping does not effect the time it takes for us to make the product, only the time required for the USPS to deliver it once we ship it.  Please be patient!