Self Adhesive Vinyl Number Touring Plate Decals:


Create Your Own Custom Oval/Circle
Number Plate Decals

Create Your Touring Number Plate Decals
Design your touring number plate ovals that are self adhesive decals and not magnets! Perfect for composite or fiberglass door panels.

Please note: These decals are self adhesive one time use products.  We do not offer 'static cling' or anything that is truly reusable.  Nothing in our industry sold as racing number plate or number is 'reusable'.
Instant Road Racing Number & Class Decal Kits: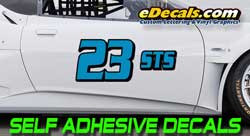 Create Road Racing Number Decal Kits
Road Racing instantly designed custom self adhesive number and class kits.  Perfect for your competition number requirements.
Magnetic Number & Class Set Kits: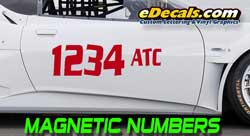 Create Your Magnetic Racing Number Set
Our individual magnetic numbers are made from the strongest 0.030 magnetic sheeting available.  See page for kit sizes and options.  For use on steel body panels only.
Circle Track Stock Car Number Sets: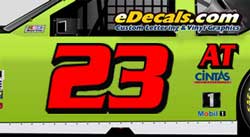 Create Your Circle Track Numbers
From street stock to modified to Nascar, we make numbering kits in many sizes and colors for cars, tow rigs and trailers
Drag Racing Number & Name Decal Kits: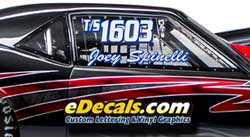 Create Your Drag Racing Numbers
NHRA IHRA NMRA number and class kits. Many sizes and colors For cars, tow rigs and trailers. These kits can be installed on any smooth wax free surface such as glass, plexi, plastic, steel, aluminum, etc.
Predesigned Racing Decals: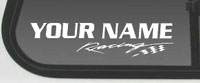 Shop For Predesigned Logos
Just add your name to these professional looking racing logos. With hundreds of designs to choose from and each in 20+ sizes and 45+ colors, we can make what you need!
Create Your Own Label Sticker Decals:
SEE ALL CUSTOM LETTERING
We can help create the perfect lettering and other custom made products for your car, truck, boat, RV, ATV or any smooth wax free surface.