CUSTOM299 Custom Greek Lettering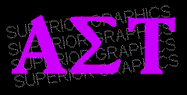 Create your own personalized Greek lettering to represent your sorority or fraternity.

Select A Size:
Pick a size and quantity from the values provided.

Select Your First Letter:
Select the first letter of your sorority or fraternity
Select Your Second Letter:
Select the second letter of your sorority or fraternity
Select Your Third Letter:
Select the third letter of your sorority or fraternity.  If your organization is only two letters, select the - character.
Select a Color: These decals are available in the colors shown in the drop down menu. In addition to the standard colors, you can choose a specialty color from the menu (These are extra cost options as shown). VIEW COLOR CHART
Shadow/Outline or Secondary Color: In addition to the single color decal, you can choose to outline, shadow or make a certain portion of the decal a second color. The extra cost associated with each is shown. Please use the text box to explain what portion of the design should be made in the second color.

NOTICE: All of our products are custom made to order, therefore there are NO RETURNS OR EXCHANGES on any orders. Measure your vehicle and choose the proper size and color combination for your application. Please read the REFUND/EXCHANGE policy before ordering.