Custom9017 – PAIR Boat Registration Decals
Boat registration numbers can be made using this design system. Your boat registration stickers are available in many color and sizes. All boat registration lettering comes with full instructions and free application squeegee. These number kits are made from durable easy to install self adhesive material for years of life on your boat or watercraft. Make your own US Coast Guard Approved Stickers today!
PLEASE NOTE: These decals are sold in PAIRS.  Pricing is done in pairs.  So if you select a quantity of 2, it will be two pairs (x4).
Boat Registration Number Lettering Decals Design Tool Instructions:
1. Choose The Boat Color Use the drop down menu to pick the color which the decal will be applied (the background color of the boat or PWC). The finished decal will not have any background, but just be the letters on a prespaced strip for easy installation. 
2. Enter Your Text Click on the Text entry box and start entering your text. Your text will instantly show on the preview screen. Be sure of the spelling, grammar and capitalization! 
3. Select The Size Enter the height in the first box. The length is calculated based on the height, and the number of letters. If you need to make a specific sized height and width decal, uncheck the Keep To Scale box. The pricing is shown on the right of the screen corresponding to the overall size.The pricing shown is for a PAIR of these boat registration number decals
4. Choose A Font/Typestyle Pick a style of writing using the drop down menu provided to instantly see your text in that style. Click Here to view all
5. Choose A Color Pick a color from the drop down menu provided. We offer 44+ colors including specialty colors. Specialty colors are higher cost options as shown. View All.
6. Choose An Effect - Optional For added customizing you can choose a shadow, shadow outline or outline. These are extra cost options as shown. View effect examples
7. Enter Your Email Address In order to save your design, we email you a copy before we make it. This ensures you get exactly what you paid for. PLEASE NOTE: We do not sell, rent or trade any personal information. Privacy Policy
8. Comments - Optional Optional comment box allows you to enter any special requests you may have.
Answers To Common Questions:
Will The Decal Have a Background?: No. The decal will be individual letters that come on a prespaced protective paper backing and covering. Once the decal is installed, the paper is removed and just the lettering is left on the surface.
Why Doesn't Chrome or Carbon Fiber Show Up On The Designer?: Due to the unique patterns and colors of carbon fiber, chrome, brush, reflective and some other specialty vinyls, we use a close solid color in the designer. When the design is cut into a decal, the proper speciality vinyl listed in the order will be used.
How Long Does It Take Until I Receive My Decals?: These custom decal orders are batched every work day (M-F) and usually are made and ship within 24 hours. Shipping times vary depending on destination between 1 and 5 business days. We do offer Express Mail shipping if you are in a rush. Please be sure your email address accepts mail from edecals.com in case there is an issue with your order.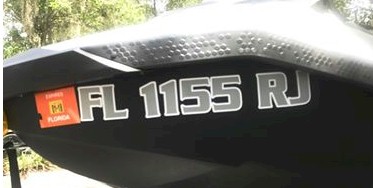 This designer is for creating custom boat registration decals. For all other decals, click here PLEASE CHECK YOUR DESIGN FOR SPELLING, GRAMMAR AND COLORS BEFORE SUBMITTING Are you a Returning Customer looking to reorder the same item? Use our easy Reorder Form