Commercial Van Signs
DIY Cargo Van Lettering Kit
These cargo van lettering kits can be made for any size truck. Customized van decals, graphics, and van lettering for your commercial business. We make truck signs and custom truck decals for any commercial company name.

Use our FREE online van lettering kit design tool below to
create your own personalized van lettering designs!

Once the order is received, we send you a final proof for approval with any changes you might have along the way. This van lettering kit tool is meant as a starting point for your truck lettering designs. So don't worry, we contact you before making or shipping the order with another design proof for your approval!

We usually make and ship the finished product within one business day after final approval. These kits are easy to install and are made from durable long lasting self adhesive vinyl material that is waterproof and buil to last years on your car or truck


Van Lettering Kit Designer Instructions:
1. Select A Van Kit


Pick a van lettering kit. If your size is not shown, pick something close and explain the size in the comments box within the tool.
2. Enter Your Text


Click on the top example text line, then change the text to your wording using the text entry box. Repeat the process for each line. To add a new line click on an area away from the lines of text then enter the text in the text box and hit 'add text line'. To delete a line of text hit the small red square at the top left corner of the line of text, or hit reset on the bottom left to start the entire designer again.
3. Choose A Font/Typestyle


Pick a style of writing using the drop down menu provided to instantly see your text in that style. Click Here to view all
4. Choose A Color


Pick a color from the drop down menu provided. We offer 44+ colors including speciality colors. Specialty colors are higher cost options as shown. View All.
5. Choose An Effect - Optional


For added customizing you can choose a shadow, shadow outline or outline. View
6. Enter Your Email Address


In order to save your design, we email you a copy before we make it. This ensures you get exactly what you paid for. PLEASE NOTE: We do not sell, rent or trade any personal information. Privacy
7. Comments - Optional
Optional comment box allows you to enter any special requests you may have.
Don't forget! We will email you with a separate final proof after your checkout from the shopping cart.
Be sure to checkout after adding kit to your shipping cart online.
(after payment and shipping information is entered).

So don't worry if your design isn't centered or visually perfect. We will fix it up for you once the order is placed!
Answers To Common Questions:
Will The Decal Have a Background?:
This designer is for creating custom
van lettering kits
, for all other decals,
click here
No. The decal will be individual letters that come on a prespaced protective paper backing and covering. Once the decal is installed, the paper is removed and just the lettering is left on the surface.
Why Doesn't Chrome or Carbon Fiber Show Up On The Designer?:
Due to the unique patterns and colors of carbon fiber, chrome, brush, reflective and some other specialty vinyls, we use a close solid color in the designer. When the design is cut into a decal, the proper speciality vinyl listed in the order will be used.
How Long Does It Take Until I Receive My Decals?:
These custom decal orders are batched every work day (M-F). For truck lettering orders we always send you a revised design for your review before manufacturing the kit. Once you approve the design image we send, then the order is made and shipped within 24 hours. Shipping times vary depending on destination between 1 and 5 business days. We do offer Express Mail shipping if you are in a rush. Please be sure your email address accepts mail from edecals.com in case there is an issue with your order.
PLEASE CHECK YOUR DESIGN FOR SPELLING, GRAMMAR AND COLORS BEFORE SUBMITTING!!
Are you a Returning Customer looking to reorder the same item? Use our easy Reorder Form
Below the tool are just a few examples of kits designed using the our tool below. DIY folks will love instantly previewing the van dcals kit before making the purchase.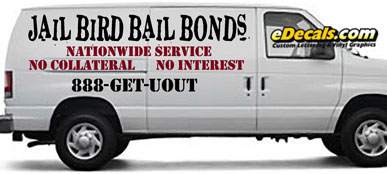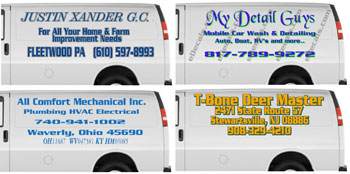 These cargo van lettering kits can be made for any size truck. Van decals graphics and van lettering for your commercial business. We make truck signs and custom truck decals for any commercial company name. Above are just a few examples of kits designed using the our tool below. DIY folks will love instantly previewing the van dcals kit before making the purchase. Once the order is received, we ship the finished product within one business day.