Truck lettering for all sizes of cars vans and trucks. We manufacture all of our products in house. That means we make it all right here in NJ. Email or call is you have any questions. Or use our powerful design tools below to create your designs instantly! Most orders are made and shipped the next business day. All orders come with installation instructions and a free squeegee installation tool.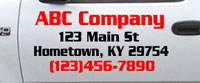 Do you need just your doors lettered?
Use this easy instant door lettering designer to create your own lettering.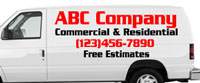 Create custom lettering for your commercial van.
We can make lettering for your cargo can which will promote your business.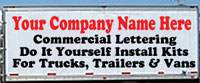 Got a big box truck with no lettering?
We can help! Create custom lettering for your commercial truck.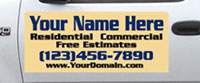 Do you need to put your company name on your car or truck?
We can manufacture custom magnetic signs for your car, truck, bus, etc.
They are made from durable .030 material (not cheap stuff)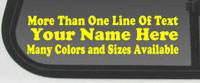 Do you need just one line of text made as a self adhesive decal?
Single Line Decal Generator

Do you need a decal with a couple lines of text?

We design, manufacture and ship or install all tryes of truck lettering and vehicle wraps.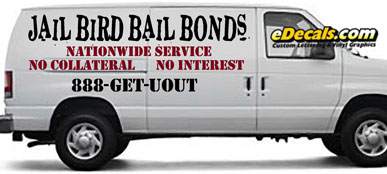 These cargo van lettering kits can be made for any size truck. Van decals graphics and van lettering for your commercial business. We make truck signs and custom truck decals for any commercial company name. Above are just a few examples of kits designed using the our tool below. DIY folks will love instantly previewing the van dcals kit before making the purchase. Once the order is received, we ship the finished product within one business day.